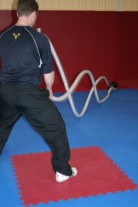 WHAT IS BOOTCAMP?
Bootcamp is a high intensity fitness class that uses multiple areas of fitness and equipment. No two bootcamps are the same! We continue to change the class everyday so that it keeps the body and you guessing. This way we can keep the boredom out of your workouts. Classes are set up as drop in sessions. No missing sign up dates. If you miss a class you don't pay for it. We understand that life can get in the way, so we want to work with you and your busy life to help you reach the goals you want. This is one workout that you will feel the calories burn as you do it.
WHAT KIND OF EQUIPMENT DO YOU USE?
Kettlebells, medicine balls, free weights, agility ladders, resistance bands, sand bags, slosh pipes, hurdles, plyo boxes, battling ropes, sled dogs, Indian Clubs, fitness discs, slide boards, tractor tires, bosu balls, and more, much, much, more.
ARE THERE BEGINNER AND ADVANCED CLASSES?
The classes are designed so that the newest member can train right beside the most advanced and not interfere with each other. If there is an exercise that you find you cannot do right now, then it can be modified so that you can do it. There is nothing that you cannot do! You just need to try!
TIMES (REGULAR HRS)
MONDAY: 6AM, 1PM, 4PM,, 8PM

TUESDAY: 6AM,4PM, 8PM

WEDNESDAY: 6AM,1PM 4PM, 8PM

THURSDAY: 6AM, 4PM, 8PM

FRIDAY: 6AM,1PM 4PM ,8PM

ALL CLASSES ARE AVAILABLE ON ZOOM

"Determine that the thing can and shall be done, and then we shall find a way."
Abraham Lincoln